The Superior model 1000 series are solid brass electric solenoid valves, designed for turning on/off water, and primarily used for operation control of irrigation sprinkler zones.  These are extreme quality valves and are especially useful for high pressure situations due to their 200 PSI pressure rating (that is very high!)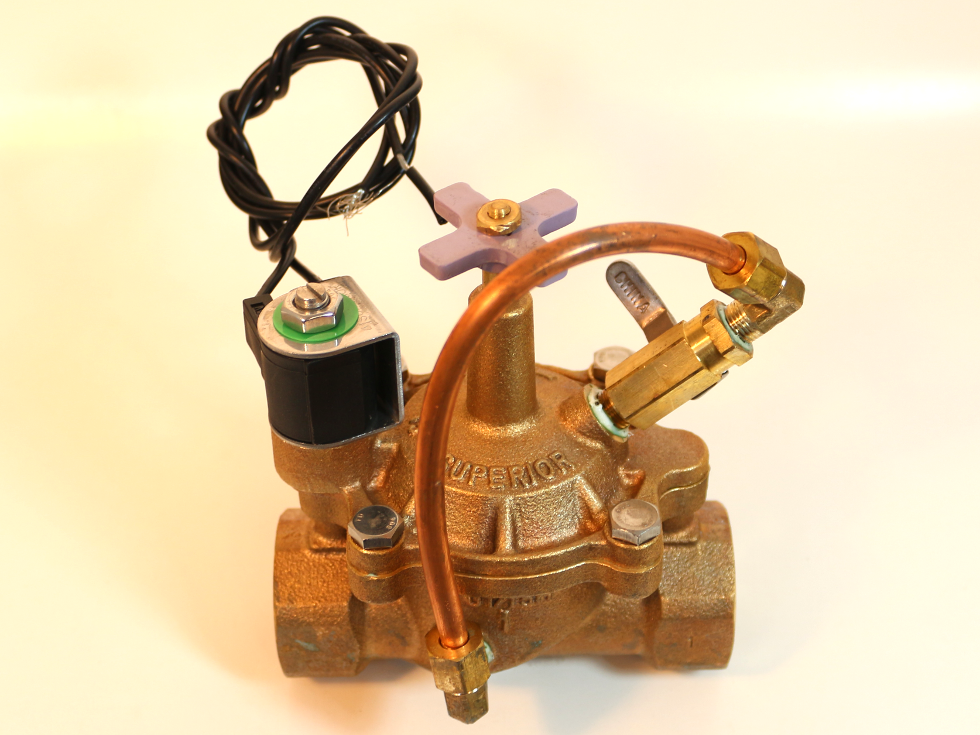 The Superior 1000 series  is designed for use with recycled water.  and features an internal dirty water filter screen, manual on/off lever (because a bleed screw is not a good idea with recycled water) and chemical resistant components to withstand the aggressive chemicals used in the treatment of some recycled water.
Features:
3/4″,  1″,  1 1/4″,  1 1/2″,  2″,  2 1/2″, and 3″ sizes
Flow range 5-320 GPM depending on valve size (see charts on Superior website.*)
Rated for 20 – 200 PSI
Solid Brass Cap and Body
Internal self-flushing filter to protect the tiny solenoid passages (ports) from clogging.
Manual on/off lever with internal bleed (no water drains from the valve to the ground during manual operation.)
No bleed screw (bleed screws are not permitted on most recycled water systems.)
Purple flow control handle to identify recycled water usage.
Solenoid can be removed from the valve without cutting the wires.  (Makes maintenance easier.)
Chemical resistant diaphragm for recycled water.
Slow closing.
Flow control.
Various solenoid voltages and wattages available, as well as latching solenoids.
Optional with British Standard Pipe Threads on inlet/outlet.
Separate rubber valve seat washer and diaphragm.
* All solenoid valves must be the proper size for the flow through the valve.  Always base the valve size on the expected flow.  Do not select valves based on the pipe size!  It is very common for the proper valve to need to be a different  size than the pipe.

Review:
This is a valve designed for use with recycled or reclaimed water systems.  The Superior 1000 series is built on the same basic valve parts used in the industry standard 950 valves, however the 1000 series has upgrades of materials and function to meet the needs of recycled water systems.  The basic 950 valve on which the Superior 1000 series is based has been reliably running irrigation systems for over 30 years.  Superior valves are reliable, rock solid products, and the 1000 series valve on the test stand performed beyond expectations.
Test Summary:  Excellent performance, the Superior 1000 valve performed well even when pushed far beyond the limits of the manufacturer's specifications.
Test Results:  A 1″ size sample valve was operated on the test stand at 30 and 100 PSI incoming pressure and flows ranging from as low as 0.25 GPM.  Those are pressure/flow combinations that will cause most valves this size to fail to close.  The Superior 1000 valve shut off quickly at that extremely low flow, which is way below the valve's rated minimum flow of 5 GPM.  In fact it performed better than the original workhorse 950 series valve that we also tested.   When the pressure and flow were increased to more typical levels the valve performed similarly well.  In other words the valve's performance far exceeded the manufacturer's own claims.
The manual on/off lever worked smoothly and easily without the use of tools or even much effort.  There is no external water bleed screw on this valve as that would violate regulations in many locations regarding the use of recycled water.  The purple handle on this valve is the universal color used to warn of recycled water being used.
A quick note on the "dirty water filter."  Dirty water is a relative term, if there is visibly dirt in the water a separate filter should be used to remove it prior to reaching the valve.  Most dirty water valves are designed to handle a level of dirt greater than found in a typical drinking water supply, but not at the level that might be found in water pumped from a ditch or pond.  Organics in the water, like algae, are particularly hard on solenoid valves and should be filtered out using a filter designed for removing organics, such as a disc/disk type filter element.  See the filtration tutorial.
This valve has a separate rubber seat washer that is not part of the valve diaphragm.  With most valves the diaphragm and seat are a single rubber piece, thus if the seat becomes worn you must replace the entire diaphragm and they are not inexpensive.  The concentrated flow of water over the seat washer in valves creates a lot of wear on the seat washer and they typically fail long before the diaphragm does.  This valve's separate seat/diaphragm design means if the seat washer becomes pitted you can simply replace just the rubber washer without the need to also replace the diaphragm.  In fact the seat washer is reversible, so unless it is really pitted  badly you can just flip it over and reuse it without replacing it at all!
One last note on Superior valves… they have really great fully illustrated repair and  troubleshooting guides on the Superior Valve Website.  That is the kind of after the sale care that is why so many professional groundskeepers are loyal customers.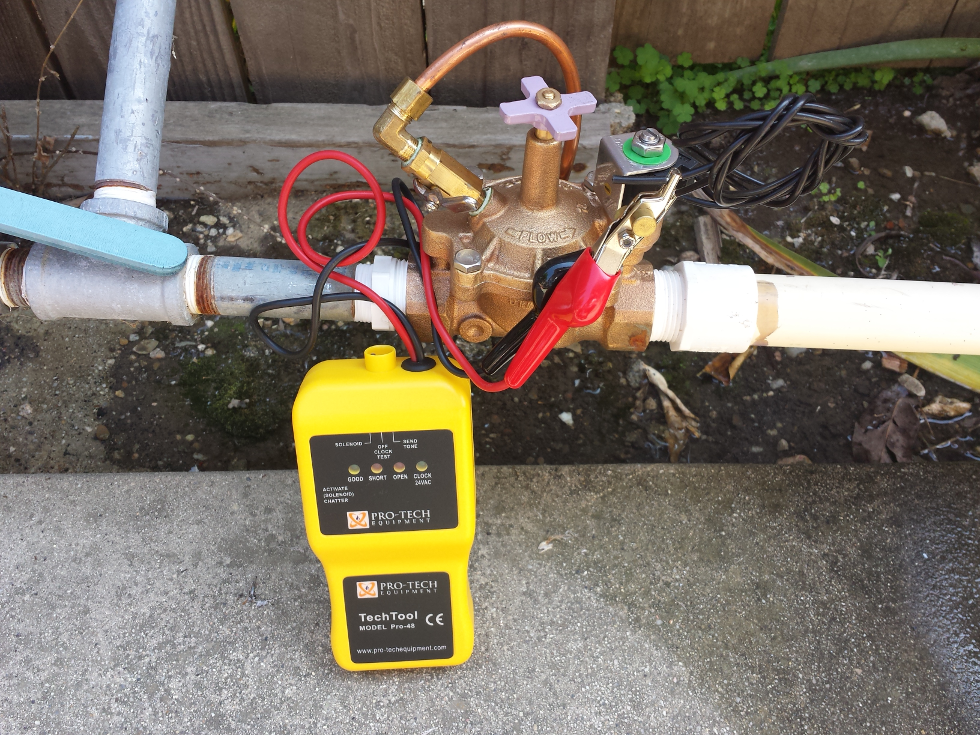 About Superior Controls
Superior Controls is one of the original automated irrigation companies, and one of the first manufacturers of electronic solenoid valves for irrigation use.  They have been producing high quality brass solenoid valves for many, many years.  They also manufacture Irrigation Controllers for operating the valves.  Superior Controls merged with Buckner Company (another of the pioneer sprinkler manufacturing companies that specializes in brass products) in 2000 and both were acquired by Storm Manufacturing Group in 2006.