Every now and then I come across something interesting related to irrigation and take a photo. Nothing important about them, just interesting to me for some reason or another. So I share them.
This pump is located at Nicholas Flat in the Coastal Mountains above Malibu, California. It was probably used by a former ranch to irrigate a large nearby meadow.   A creek is located in a gully in the bushes behind the pump.  A large intake pipe is still back there going down toward the creek, not visible in this photo.  There is a nearby pond that still exists, the pipes may have originally extended from the pond, although the location seems rather far from the pond to have been pumping pond water. I suspect the pump drew water from a sump in the creek bed.  Sumps were (and still are) created by simply piling sandbags in the creek to dam up enough water to keep the pump intake submerged.
On the right is the gas engine that powered the pump. To the left in the grass is the flywheel and the actual pump, laying on it's side. before it was vandalized the pump was mounted on the far side of the engine, near where the pipe with the "tee" on it is.  A large belt connected the small drive wheel on the engine to the large flywheel on the pump.  I find it interesting that the galvanized tee on the pipe behind the engine has not rusted, but the pipes apparently were not galvanized, or at least not as well as the tee!
---
Advertisement (content continues below ad):
---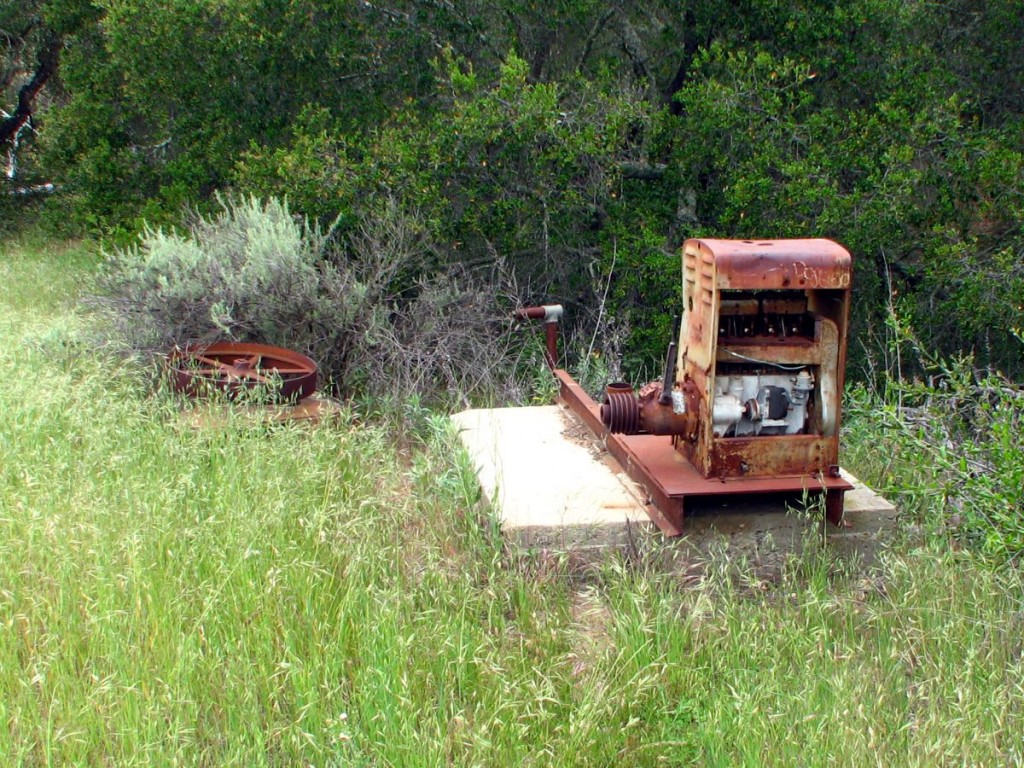 Nicholas Flat is now within the boundaries of Leo Carrillo State Beach, within the Santa Monica Mountains National Recreation Area.  There are a number of great, easy hiking trails in the area.  The pond makes a great hike destination, the trail is an old ranch road, short and level with lots of interesting things for kids to look at.  Suitable for strollers.  The pond is created by a natural rock outcropping that forms a dam.  Scrambling up an easy climb to the top of  the rock outcrop rewards you with a great view down the canyon to the Pacific Ocean.  The far side of the rock outcrop is the top of a high cliff, so keep kids supervised!  Also lots of poison oak if you go off-trail.  Just a warning if you have small kids keep an eye on them.  The trail head  is at the end of paved Decker School Road.

View Larger Map