Water-proofing your irrigation system's wire splices is one of the most critical tasks in any installation or repair that involves wire splices.  The splices need to be completely water-proof.  Taping them up with electrical tape will NOT work for this!  The electrical tape will allow water into the splice as it becomes old, brittle, and the adhesive on it dries out.  If you don't water-proof your splices it WILL cause your valve to fail!  Don't save a buck on a wire splice and ruin a $20 valve! I'll explain in detail why waterproofing is so important later, first let's get down to the details on how to make a good waterproof wire splice.
General Things That you Need to Know about all splices!
Caution:  The methods described below are intended for low-voltage wires of 24VAC or less, such as those used in typical irrigation system controls.  They should not be used for higher voltages.
DO NOT BURY SPLICES directly in the ground.  Put a box around them to protect them and to help you find the later.  A small plastic utility box works fine.  Glue a large steel washer to the bottom of the box lid using epoxy.  This will allow you to find the box with a metal detector if grass grows over it.  Splices are the most likely place a wire will short out in the future, so a box makes the splices easier to find and repair.
2-wire irrigation systems:  These are a newer type of system that uses only 2-wires to control all the valves.  The irrigation controller sends a signal through the valves to a decoder at each valve.  The decoder then allows power to the valve solenoid only when told to by the controller.  These types of systems depend on electrical "signals" sent from the controller through the wire to the decoder.  Any voltage leak at a splice can severely impact the signal and cause the system to malfunction.  For this reason splices for 2-wire systems need to be made much more carefully.  Many of the 2-wire manufacturers have specific splice methods they require be used in order to protect your warranty.  Be sure to use these if required!
Not sure if your system is 2-wire?  As i write this in 2013, 2-wire systems are seldom used on residential systems, but they are also gaining popularity and will probably start showing up soon, first on larger systems.  The controller case normally will be clearly labeled as "2-wire".  A 2-wire system will also have a "decoder unit" installed on the wires at each valve.  Standard irrigation control systems have two wires going to each valve.  But in a standard system one of the wires goes to a single valve and only that valve.  So if you have 4 valves there will be 5 wires (1 common shared by all the valves, + 1 individual wire to each of 4 valves = 5 wires.)  On a 2-wire system with 54 valves there would be only 2 wires and each valve would have a decoder unit installed on it.  The presence of a decoder to be installed at each valve is the best way to tell if it is 2-wire.
The best way to make the splice is to use special water-proof splice connectors that you can buy at any hardware store.  These are made for sealing outdoor wire connections and work very well.  There are many different styles and types available.
Water-Proof Twist On Connectors – "Nut" Style or "Wing" Style
Most of the connectors currently used by pros consist of an twist on type wire connector that is filled with a water sealing grease.  Sometimes these are called water-proof "nut" or "wing type" connectors.   These are inexpensive and very simple to use. Here are general instructions for use since a lot of these inexpensive connectors are sold without instructions.  If instructions came with the connectors please use those instructions, as they are intended for the actual connectors you bought!
For every 3 connections you need buy 5 connectors.  Why?   Because you will probably make several bad splices, and you will have to remove those connectors and toss them in the trash.  They can't be reused because when you remove them a lot of the sealer comes out with the wire.   (If you look close most connectors actually say "do not reuse" or similar language on them.)
Start by stripping the insulation off the end of the wires to expose the bare metal wire.  Do not strip off too much insulation, the exposed  bare wire should be about 1/2 the length of the connector body.   You can splice 3 wires together easily using a single connector.  It's OK to put 4 or 5 wires in a connector, but be warned that it gets a lot more difficult getting the wires to stay in the connector when you use more than 3 wires.
Place the bare ends in one hand and using your other hand, align the wires side-by-side, so the ends of the bare sections are lined up together.  Those ends need to all go into the connector together at the same time, so hold the wires tight and don't let them slip out of position.  Do not try to insert an additional wire into a wire connector that already has wires spliced together in it.  You need to remove all the wires and redo the splice to add more wires.
Push the connector down over the bare ends of the wire.  Twist the connector clockwise to screw it on.  Hold the wires firmly in position as you twist the connector over them.  The connector has threads, a spring, or barbs inside it that will grab the wires and cinch them together tightly as you twist it on.  Stop twisting when you feel substantial resistance.
Hold the connector in one hand and tug on each of the wires with the other to make sure the wires are secure and will not pull out.  If a wire feels loose or pulls out, disassemble the entire splice and try again.   Use a new connector as some of the sealer will probably be lost when you remove the connector, and it needs all the sealer for a good seal.   If the wires still pull out after another try you are probably using the wrong size connector.
Finally make a visual inspection of the splice.  The insulation on the wire should be fully inserted into the sealer gel or grease.  No bare wire should be visible.  That's all there is to using twist on wire connectors, they are very quick and easy.
The connector size is important when using twist on connectors!   Be sure you buy and use the correct size connector for the wire sizes you are splicing. The package will list the various wire size combinations that the connector works on.  The connector colors indicate the connector's size and most are standardized.  Here are some general guidelines.  Warning: There are some brands that do not follow these color guidelines so double check the instructions on the package!
Connectors for #18 wire.  Most residential irrigation systems use #18 size wire, this is the size of most of the multi-wire underground irrigation cables sold in hardware stores.   Unfortunately the colors for these connectors are not standardized.  Most I have seen are dark blue or black.  Make sure it says it will connect 2- #18 wires.
Connectors for #14 & #12 wire.  Larger irrigation systems and commercial irrigation often use individual #14 wires.  Sometimes #12 will be used for irrigation systems with very long distances between the controller and the valve.  Most often these connectors are yellow.   Note: Most of the yellow connectors I have seen will NOT connect a single #14 wire to a typical valve solenoid wire.  For this you will probably need the smaller #18 wire connectors above.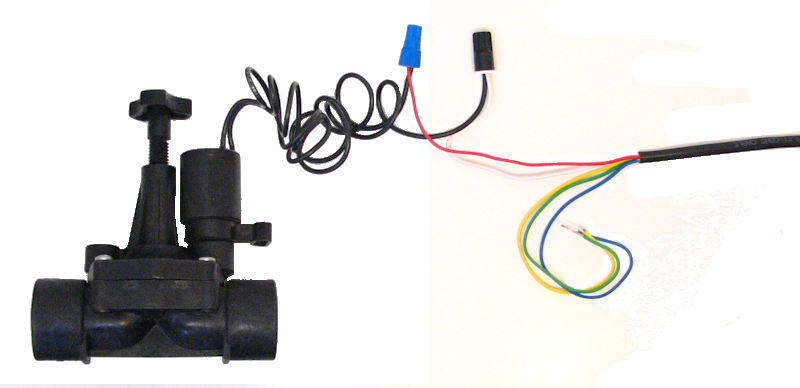 Mechanical Clip Style Non-Stripping Connectors
Clip style is a catch-all name I use for the various types of connectors that use a mechanical clamping system to grab and bite into the wire.  Typically with this type of connector you push the wire into a round slot on the connector, and then squeeze some type of clamp that bites into the wire to hold it in place.  Some require pliers to squeeze the clamp into the wires.   The most popular of these types of connectors for irrigation use is the Blazing Snaploc BVS Series wire connectors and the 3M Scotchlok 314 series connectors.  These connectors are more expensive but make a very secure connection almost always on the first attempt.  You won't need to buy nearly as many extras for bad splices.
Container Type Connectors
These connectors are a two piece, two step system.  You connect the wires together using either a standard twist type wire connector, a crimp sleeve, or even soldering the wires together.  Then you shove the splice into a container filled with a water-proofing grease or jell and snap a retainer lid closed to hold the splice inside the container.
A variation on this type of connector is the original waterproofing method used back when I started in the business.   You mixed a 2-part epoxy resin in a small plastic envelope and then shoved the splice into the envelope so it was covered in resin.  The resin was allowed to harden creating a solid water-proof seal.  Unfortunately the resin was a carcinogen.   I don't think these are sold any longer.