The web's mother lode of free irrigation information!
Book Review
Ortho's All About Sprinklers and Drip Systems
Meredith Books, Des Moines, Iowa. Editor-in-Chief James D. Blume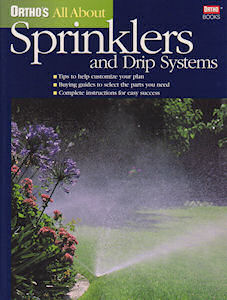 (This review is of the first edition, copyrighted in 1998. There is a newer 2006 edition, which I have not reviewed.)
The book Ortho's All About Sprinklers and Drip Systems provides a good background on irrigation, and will help you decide if an irrigation system will be of benefit for you. This would be an excellent book for someone planning to hire a contractor to install an irrigation system. It will provide you with what you need to know to evaluate the contractor's proposal and work. The book will also help you decide what type of irrigation would be best in your situation.
Ortho's All About Sprinklers and Drip Systems would be a good book for someone contemplating installing an irrigation system and not sure where to start. It covers most all the irrigation options and the pros and cons of each. The book has a good section on drip irrigation, and also is a good guide for the do-it-yourself installation of either sprinklers or drip irrigation. The book only provides minimal details on how to design your own sprinkler system.
Quick overview of the covered topics:
Irrigation background: Excellent.
Understanding Plant/Soil/Water/Climate/Micro-climates: Excellent.
Sprinklers vs. Micro-Irrigation: Very good.
Sprinkler system design: Poor.
Sprinkler system installation: Very good.
Micro-irrigation design: Good.
Micro-irrigation Installation: Very good.
Irrigation system maintenance: Good.
Irrigation repairs; Good, but minimal.
Chapters:
Chapter 1. The book starts out with a chapter on the advantages of home irrigation, basically explaining why you might want an irrigation system, and why you might not want one. I was pretty impressed with this first chapter, and I think it alone is worth the price of the book. The chapter continues with a brief history of irrigation and thoroughly takes you through the inter-relationships of soil, plants, and water. You'll find a good discussion of climate and microclimates and how these affect your irrigation system.
Chapter 2. This chapter examines rather you should try to install your irrigation system yourself or hire a contractor to do it. It examines how to determine whether a sprinkler system or micro irrigation system (or both) will be better for you. The editors then help you collect the information you'll need to prepare for the design of your irrigation system. The second half of this chapter tells you how to draw a scale plan on paper showing the features of your yard, such as lawns, shrub beds, trees, house location, patios, etc..
Caution: There is a major error in Chapter 2 of the book. The Water Capacity in Gallons per Minute chart on page 27 provides you with values that far exceed industry standards for safe flows. You should not use this chart. Using these values could result in very expensive damage to your home's plumbing.
Chapter 3. Chapter 3 covers sprinkler systems. The editors provide good guidelines for selecting equipment, as well as safety considerations. The middle portion of this chapter consists of some very minimal sprinkler system design guidelines. This book is not a sprinkler system design manual and will not give you sufficient information to design a sprinkler system. It does cover some basics, enough for you to review someone else's design for possible dry spots where an additional sprinkler might be advisable. But much of this section on sprinkler system design is unclear, or not helpful. For example, the book does not cover what size pipe to use at all; it suggests you take your plans to an irrigation dealer and asked them what size pipe to use. I worked for an irrigation dealer and I can assure you that is not a good idea. Most of the folks working the sales counter would not have a clue as to how to properly calculate the sizes. They would likely just give you their best guess.
The final part of Chapter 3 deals with how to install a sprinkler system. The installation instructions are very good and most people could complete a self-installation of a sprinkler system by following them. There are lots of good graphic illustrations to help clarify the procedures.
Note: There is a minor typo on page 54 in the section "Installing Valves and Related Components" that may confuse some people; where it says "80 GPM" it should read "80 PSI".
Chapter 4 is on micro irrigation systems (also known as drip irrigation.) This section is very good. It covers almost all the issues that you'll encounter related to drip irrigation. It will provide sufficient design information for most residential tract-size homes, as well as installation tips. This section also covers "micro-sprinklers" which were popular back when the book was written. While still available, micro-sprinklers have fallen out of favor due to high maintenance requirements.
Chapter 5 primarily talks about irrigation scheduling, when to water, and for how long. It goes into considerable depth on the topic. It also discusses automated controls for your irrigation system such as electric valves and timers. It covers wiring and has wiring diagrams for installing valves and timers.
The book ends with a short section on routine maintenance and instructions for a few of the simpler irrigation repairs. The final page has a basic troubleshooting guide for irrigation problems.
Conclusion:
In conclusion I feel I can recommend "Ortho's All About Sprinklers and Drip Systems". There were moments as I read it that I had my doubts, but in the end there was more than enough good information to out-weigh the bad. This book is basically an introduction to irrigation, and if used as that, it is excellent. For someone wondering what the best way to water their yard is, this book will give you the answers. It will help you decide what you need, what benefits you will get, and how much of the work of installing it you should do yourself. This book is not a sprinkler system design manual. The sprinkler system design information in this book is incomplete at best. But while the sprinkler system design information is very weak, the other areas covered are strong or at least competent. The bottom line is that for a cost of only $12 (or less) it is likely you will get your money's worth from Ortho's All About Sprinklers and Drip Systems.
Reviewed by Jess Stryker, www.IrrigationTutorials.com
---
---
Text and Images by Jess Stryker unless noted. Copyright © Jess Stryker, 1997-2011. All rights reserved.